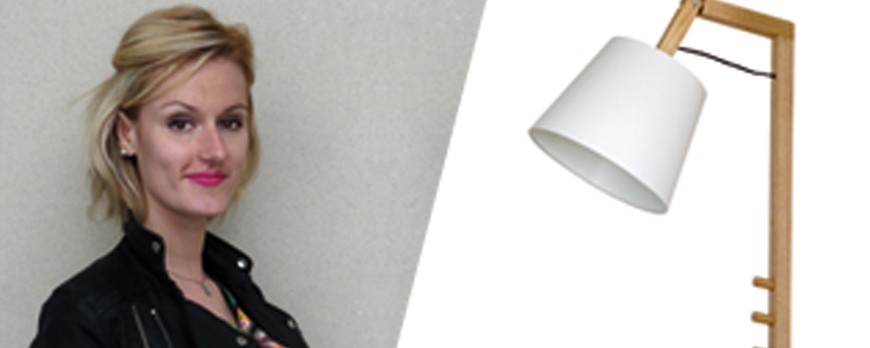 INTERVIEW WITH ANNELINE LETARD
Anneline Letard, a design student based in Le Mans, has accepted to answer some of our questions. Encounter with a former Bellila intern that tells us about her journey.
Which academic/professional route did you take?
In 2010 I got my scientific baccalaureate, in engineering science for the Arts, I then obtained a Bachelor's degree in design for" Espace de la citée" at the Beaux Arts du Mans in 2013, and I am currently in the process of getting my master 2 in the goal of obtaining a DNSEP, still in design for "Espace de la citée" at the Beaux Arts du Mans.
What made you decide to go this route? Did you always aspire to be a designer?
For as long as I can remember, I have always had a lot of imagination, especially for creating objects. When I was about 10 years old, I got the opportunity to visit a few design schools in Paris and that was what ultimately made up my mind to work as a designer.
How did you come up with the idea for the lamp OUD M? What are the real advantages to this lamp?
The OUD M came out of a request from Bellila in the pursuit of expanding their OUD lamp collection. The principal idea was to create a multi-usage lamp that would be aesthetically pleasing and practical at the same time. It was mostly thought of for small apartments where saving space is always a priority. Indeed, the OUD M was conceived to make an entrance into owners' apartments easy and agreeable, while allowing quick access to lighting and a coat hanger as soon as someone walks through the door.
What did you gain from this collaboration with Bellila ?
Being a student at the time, the collaboration with Bellila brought me a lot of things, and most importantly a real professional experience that has once again reinforced my motivation to become a designer. It has also allowed me to meet a lot of professionals in this industry such as the owners of Bellila, but also several other artisans and designers in the Paris area that have previously collaborated with them.
Do you have plans or projects for the future? Any ambitions? What do you dream of designing ?
Any projects for the future? I have plenty in mind! At the top of my list of course is to find a job that allows me to use all of my skills as a designer after having received my diploma. I of course wish to continue creating objects and develop them or even micro-architectures if I get the opportunity. I have so many ideas in mind that I wonder if one life is enough to explore all of them… Moreover I would love to design a car!
Which designers do you particularly appreciate ?
There are four that I really appreciate, particularly for their manner of working and the rigor of their projects that are inspired in part from natural elements: Ross Lovegrove, Benjamin Graindorge, Mathieu Lehanneur and Susanna Soares. They gain from their multiple practices through their multidisciplinary network. That was in fact the subject of my memoire turned in in January.
Where do you get your inspirations from ?
For the last three years now, I have been inspired by the natural elements and particularly by their physical but also physiological characteristics. Thanks to the new digital tools we now have access to, we can study these systems with precision in order to extract their intrinsic qualities and implement them in design. This allows us to respond to certain technical problems, such as ergonomics or to improve the simple objects in our daily lives (home furniture, urban furniture, etc)
Is there a certain colour or fabric that you especially like working with ?
A colour, I would say grey. For fabric, I like to work with blocs of foam so I may shape them to my needs and ideas.
What is your favourite book or film of the moment that you would recommend to us ?
At the moment I am reading "Micro" of Michael Crichton and Richard Preston which I would of course recommend! And I think you should definitely run into the nearest movie theatre to catch Mad Max on the big screen! Last but not least, in a completely different genre, I would say that the DVD in homage to Pina Bausch Pina: "Danse, Danse, otherwise we are lost" of Wim Wenders should be found under every roof! 
Anneline Letard 
---